October is upon us again in all its blustery, cold and windy glory. In southern California we don't get "autumn" in the way other locales do but it is misleading to say that we don't experience any change in the weather during the coldest months. Here at the southern edge of the Mojave Desert we get to enjoy the bracing gusts of the Santa Ana winds, which are currently aiding and abetting a huge fire just on the other side of the Angeles National Forest from where I sit, typing. Ah, fall.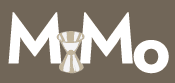 We do actually have some turned leaves falling on the lawn (more like crashing into the side of the house today) and I am off in a few hours to my new job, participating in another of those autumn rituals—going back to school. I realized with some alarm this morning that today is also Mixology Monday; some teacher I am, wandering in with my hastily scribbled homework just before the bell rings.
This month's topic is "Guilty Pleasures," hosted by Stevi of Two at the Most, but I'm afraid the ones I have really aren't very interesting. I enjoy a good Cuba Libre from time to time or will make a Gimlet with Rose's Lime Cordial when pressed, but otherwise I have weaned my drinking habits away from the Long Island Iced Teas of the world. Since neither of those seemed to be particularly guilty to me, I am instead going to run with another of my guilty pleasures. My friends will tell you that I have a finely tuned eye when it comes to things that are so tacky no one else would like them. I own obnoxious '70s floral-printed dresses. In thrift shops, I am inexorably drawn to anything avocado green or covered in glitter. I un-ironically know the words to every Air Supply song. If most other people think it is terrible, I probably love it. What can I say? I have a soft spot for strays of all kinds.
My morbid fascination with the terrible doesn't stop at hideous china or macrame; oh no, I will also make a drink just because it sounds so incredibly, improbably awful that I absolutely must know if it is as terrible as it seems. As you might imagine, there is no shortage of inspiration as such things go. Old cocktail books are teeming with drinks that can make your eyes water and your throat dry, and I'm just the sort of patsy who will make them. Enter Mud Puddle Books and my copy of Barflies and Cocktails by Harry and Wynn.
Toward the end of the book there is an essay entitled "Cocktails Round Town" by one Arthur Moss. In it, he details some cocktail recipes by various bartenders around New York, most of which sound absolutely dreadful! Such things are second drink heaven around here, so we selected the amazingly named Burnt Fuselage cocktail, which entry goes like this:
Chuck Kerwood takes to the air so frequently that he likes a stiff steadier when he comes down to earth. The famous flying man calls his concoction the 'Burnt Fuselage.' And believe me, 1/3 Grand Marnier, 1/3 Cognac, and 1/3 French vermouth, and your own fuselage will be warm, to say the least.
Roughly translated, our recipe came out like this:
¾ oz cognac
¾ oz Rhum Clément Creole Shrubb
¾ oz dry vermouth

Shake over ice and strain into a chilled cocktail glass.
So how was it? Surprisingly, not that awful. The vermouth was entirely too overpowering, but it did add an appealing dryness to the overall character of the drink. I think I might prefer to use lemon juice instead, but another go with half the amount of vermouth probably wouldn't be a bad idea either. Not that I would be serving this to guests any time soon—besides, with a name like that, who would want one?
Some more big news: FoodBuzz officially launches today! If you have the time you should check out the blogging community we've been building there for the past six months, including plenty of us cocktail bloggers amongst the 1,000 members.